In addition to my creative side I like to think of myself as being a peace-loving down-to-earth soul always looking for ways to make people happy. Yes, I admit it, I am a "People Pleaser"! But I get great satisfaction in giving from that altruistic place in my heart. It makes me happy too.
Following in my mothers' footsteps I started volunteering for causes dear to my heart at a young age (from selling Happy Face buttons for Unicef when I was just 10 – raised over $100 – a lot back then! to walking and raising over $25k for the Susan G. Komen Race for the Cure the first year it was in San Diego!) Serving the homeless at St. Vincent de Paul and numerous other organizations have benefited from my hard work as well.
Six months after Hurricane Katrina devastated New Orleans I had an opportunity to go there to rescue animals for the local Humane Society chapter. I'm an animal lover too…I took my niece and it was an experience that we'll never forget. The city and the people made such an impact on me that we went back the following year to help build a house for Habitat for Humanity in a development called "Musician's Village". It was the brainstorm child for Harry Connick Jr. (famous singer, actor, musician) who we also got to meet – Yeah! This time I brought my son, niece, nephew and brother-in-law on what I knew would be another unforgettable trip. It was made so by the generosity and gratitude of those giving and those receiving such a wonderful gift of a home. After 3 days of working on a particular house we had the opportunity to meet the family who would soon be living there – A single mother with 3 children. Words alone could not express the joy in their faces and hearts for what we were doing for her. I explained that we weren't just building her a new house we were "rebuilding" her life, her future and the same for her children….
This is why I do what I do and what has helped make me the person I am today and how touching it is to do these things with other people who feel the same way.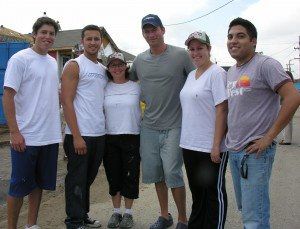 Our group with Harry Connick Jr. !!!!
(Paul, Daniel, Susan, Harry, Erin & Ray-Ray)